The products contain bleaching agents at lower concentration compared to the products used by dentists. The most common bleaching agent in these products is carbamide peroxide, which is a 10% solution has a whitening capacity equal to a 3% hydrogen peroxide solution. The products used by dentists contain hydrogen peroxide in concentrations ranging from 15 to 43%. The dentist modulates concentration based on the specific needs of each patient. Some of them may require the fluoride varnish process.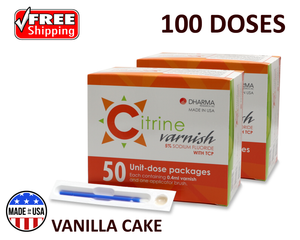 Thermo-formed masks
The thermo-formed masks inserted in the do-it-yourself kits, unlike those used by the dentist, have standard dimensions and only in rare cases can be shaped to make them adhere perfectly to the dental arches. This customization allows maximum contact between the teeth whitening gel and minimizes the contact of the gel with the gum tissue, reducing the onset of inflammation.
Additional protective measures
If the dentist detects hyper-sensitivity of the patient to the whitening substances, he can apply special rubber barriers, called dams, suitable to avoid the contact of the gel with the gums and the other soft tissues of the oral cavity. Obviously, these measures are not included in the kits.
Speed ​​of the whitening process
As already mentioned previously, do-it-yourself products require